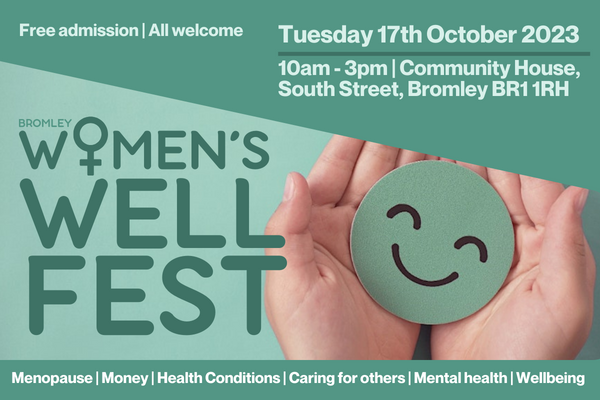 Bromley Women's Wellfest
Tuesday 17 October 2023
10:00 to 15:00
Bromley Well and Age UK Bromley and Greenwich invite you to a free, women's health and wellbeing day!
Drop in at any point during the day to listen to key speakers, browse information stands, grab a cuppa, a biscuit and chat with us!
No need to register but it will help us with catering if you do! You can register on Eventbrite. Alternatively email Nikki Fishman, Community Engagement Officer nicola.fishman@bromleywell.org.uk to register.
Everyone welcome - Be inspired, get motivated!
Final programme coming soon but we're pleased to already confirm the following.
Open from 10am
10.30am - 10.50am Caring during the menopause Karina Brown, Director, Bromley Home Instead
11.00am Welcome address
11.15 – 12.00pm Living with and managing the menopause – Cathy Proctor and Cheryl Rothon
One woman's experience of menopause – you'll find Cathy on Instagram @meandmyhrt - and expert insight from Cheryl, Clinical Nurse Specialist with many years experience supporting women going through menopause.
15 minute Break to grab a coffee
12.15am– 12.45pm Let's talk Menopause and Money! - Tracey Taylor, founder of MenoMoney
MenoMoney is a company that helps women to manage their menopause symptoms and cope with financial overwhelm.
Tracey is a menopause coach, a member of the Financial Therapy Association and is a qualified RO5 Financial Protection adviser.
Tracey will be sharing her own experiences and reasons why she does what she does as a Menopause and Money (MenoMoney) Expert.
12.50pm-1.10pm Lasting Powers of Attorney and the Court of Protection - Nima Stepney
Nima is Senior Associate Solicitor at local law firm Thackray Williams and Co-Chair of Bromley Dementia Friendly Community.
Don't miss Nima if you're want to know about Power of Attorney, making a will, planning ahead…
BREAK
1.35pm – 1.55pm Mid-life Work Mojo - Dee Zammit, Successful Mums
Dee Zammit is a career coach at Successful Mums Career Academy, an award-winning training company that supports parents to find flexible careers, upskill or start a business.
Dee will take you through the career options at 40+ and provide invaluable advice on how to find the perfect job, volunteer role, or even start a business. Her session is designed to inspire but will also provide practical tips on managing perimenopause and menopause symptoms in the workplace.
2.00 pm - 2.30pm Your mental wellbeing matters
Zeenat Noorani, Mindset & Wellbeing Coach, NLP, EFT, Mindfulness Practitioner, Hypnotist, Radio Presenter. Co-founder, Let's talk Better Campaign.
Zeenat Noorani draws on her own journey to communicate how critical mental wellbeing and mindset is, offering guidance that enables others to be strong and to grow.
Zeenat will reflect on how major life events such as pregnancy, motherhood, menopause and a multitude of other difficulties can create physical and emotional challenges for women.
You will leave with '7 Tips To Get A Grip' to improve your mental wellness and help you to tackle these challenges.
2.40pm - 3.00pm Get your move on! with Mytime Active
Great to have our friends from Mytime Active with us, ready to answer all your questions on exercise during pregnancy, post-natal, menopause, older age, post -surgery... A chance to meet the experts!
Everyone welcome - Be inspired, get motivated!
Free Refreshments (teas/coffees biscuits!) provided throughout the day.
This event is jointly organised by Age UK Bromley and Greenwich and Bromley Well with kind support from Thackray Williams.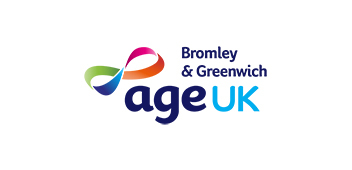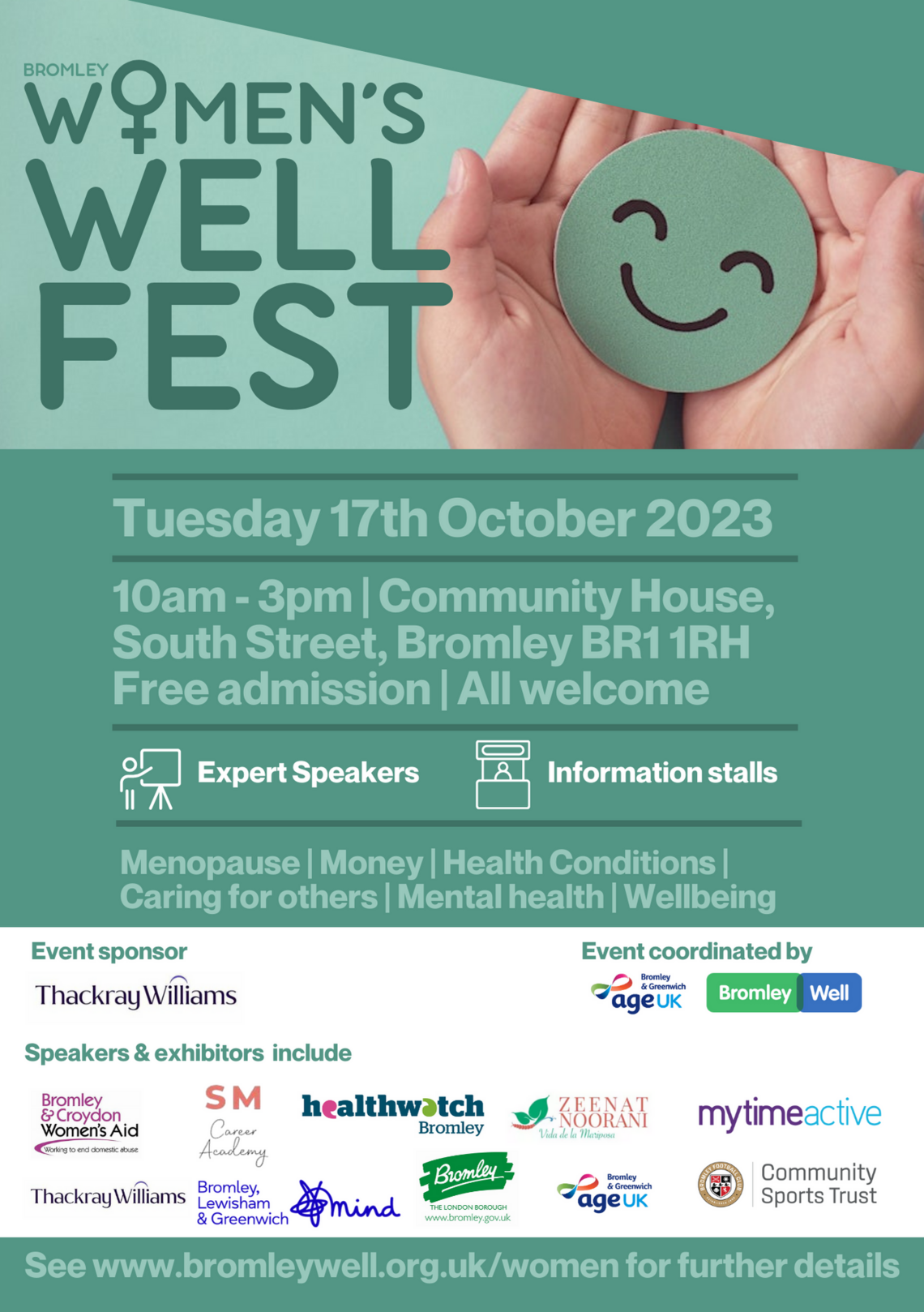 Contact
Nikki
nicola.fishman@bromleywell.org.uk
079 3125 3008
Location
Ground Floor of Community House, South Street
Bromley
Kent
BR1 1RH
(view map)
Cost
FREE for everyone! But if possible please register in advance so we know numbers