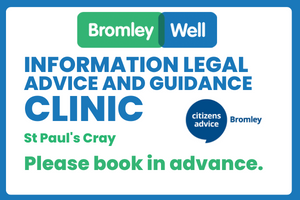 Information Legal Advice and Guidance Clinic (St Pauls Cray Library)
Monday 23 October 2023
Our Information, Legal Advice and Guidance Team are at St Pauls Cray Library and Community Centre - BOOKING REQUIRED
Please book in advance if you want to see our team.
When: Mondays, appointments only
Where: St Pauls Cray Library and Community Centre, Mickleham Road, St Pauls Cray, BR5 2RW
What?
We help with many issues...
finance
benefits
housing
relationships
legal...
So get in touch with the staff at the Centre if you'd like to see a member of our Team on Mondays.
Contact
St Pauls Cray Library and Community Centre
020 8300 5454
Location
Mickleham Road
St Pauls Cray
London
BR5 2RW
(view map)
Cost
FREE