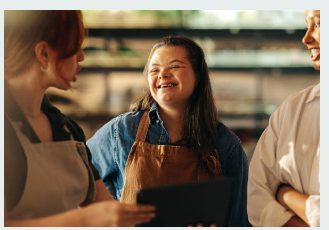 It's Learning Disability Week!
Monday 19 June 2023
It's Learning Disability Week
This year is all about busting myths about living life with a learning disability.
We're supporting charity Mencap's campaign to raise awareness and make sure the world hears what life is like if you have a learning disability.
For further information about any of the events and how to get involved please contact Maria maria.carver-carter@bromleywell.org.uk Tel: 07752 466928
Monday 19th June 2023
Our weekly Correspondence Drop in at Bromley Mencap's centre in Station Road will be open as usual from 11-1pm and 2-4pm.
We'll be checking out what has improved for you whilst using our service. Come along and tell us what you think.
Tuesday 20th June
We will be showcasing an Arts and Crafts exhibition at the Cotmandene Centre, in Orpington, looking at the artistic talents within our Learning Disabilities/difficulties community.
It will be a fun day celebrating arts and crafts. We have invited along our local PCO officers, and members of the community.
We will be offering Light Refreshments and tempting treats on the day.
Wednesday 21st June 10am to 12 noon
We will be hosting a Mandala Workshop at Station Road, with Mental Health Practitioner Michelle Tiedman, looking at the Therapeutic art of Mandala, that helps to get rid of frustrations and worries allowing the mind to relax.
Friday 23rd June 4pm - 7pm
Venue: Crystal Palace Football Ground, Copers Cope Road, Beckenham, BR3 1NZ.
We will be hosting a Sporting/Talent evening looking at achievements of people using out services.
We will be presenting sporting trophies and medals and have invited a special guest along!
We are looking forward to a relaxed and fun evening where you can come to celebrate your talents and socialise!
There will be a paying bar at the venue.