Bromley Self Care Week: Be Scam Aware and Protect Yourself
Wednesday 17 November 2021
14:00 to 14:30
For Self Care Week we're delighted to have Bev from Bromley Trading Standards join us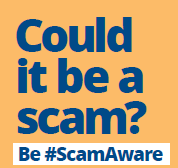 Join us online for 30 minutes with Beverley Nicklin, from Bromley Trading Standards. Bev is a regular guest at our Bromley Well peer support groups.
She'll tell us all how to avoid being a victim of scams and doorstop crimes.
There will plenty of time to ask questions about how to protect yourself from scammers so please do join us!
Book
To book your place and to receive your Zoom invitation please email nicola.fishman@bromley well.org.uk
Learn about
• Types of scams
• How to spot a victim
• Who can be a victim of a scam
• The signs to spot a scam
• How to protect yourself and others
• Reporting a Scam